Brad brings his knowledge and passion to Breathe Life Healing Centers as an author, teacher, interventionist and expert on the impact of complex trauma on life. Brad is best known for helping people make life-enhancing change on through his work with Oprah Winfrey, the TODAY Show, and the Dr. OZ Show.
Brad's mission is to help families have "more good – less bad" in their lives. Oprah referred to Brad as "America's Interventionist" and it stuck. He created and produced the eight part eating disorder docuseries Addicted to Food for with her in 2013. He is known for the evidence-based invitational intervention model he has popularized since 2005. His clinical trainings across the globe have equipped counselors, therapists, treatment staff and others with the powerful and 21st century approach to intervention.
Brad began his own recovery journey in 2003 from drugs, bulimia, nicotine and alcohol. What seemed an impossible challenge proved how even the most challenging cases might not just recover, but thrive from a starting point of hopelessness and brokenness.
He has managed more than one-thousand interventions, fellowshipped at hundreds of treatment facilities across the country, presented before Parliament in the UK, co-authored legislation that has passed to increase ethical care, and served on the board of the Association of Intervention Specialists. Brad has endeavored to collaborate with the most knowledgeable and effective specialists in the field of the helping arts.
In 2012, Brad realized a dream come true as he opened the first Breathe Life Healing Center to provide sub-acute trauma treatment at the residential level for those suffering from complex trauma, substance use, and eating disorders.
"With impactful clinical care and focus on family healing we've created in Breathe the first-of-its kind program in the nation helping entire families recover."
Deb's efforts over the last 35+ years has been a dedicated mission in behavioral health, eating disorder and addiction treatment. Her commitment to strategic planning and staff development ensures a standard of excellence for all patient care.
Deb began her career in the Adventist Hospital System with the Adolescent Substance Abuse Program (ASAP Family) and Dr. Dave Lewis. Later at Anacapa by the Sea and Steps Treatment Program's her talent and influence as the Intake Director supported multiple levels of care capable of treating multiple populations with a focus on clinical excellence for more than a decade.
Deb continued her career at Rader Eating Disorder Programs and Rosewood Ranch Eating Disorder Programs before joining the founding team at Breathe Life Healing Centers.
As the CEO of Breathe, Deb has, once again, developed a program that stands head and shoulders above the rest in Substance Abuse and Eating Disorder Care. She, alongside Brad Lamm, has taken an idea to reality in a tumultuous time for private treatment programs. Together they have lifted up a facility that stands head and shoulder above the rest for ethical and clinical excellence.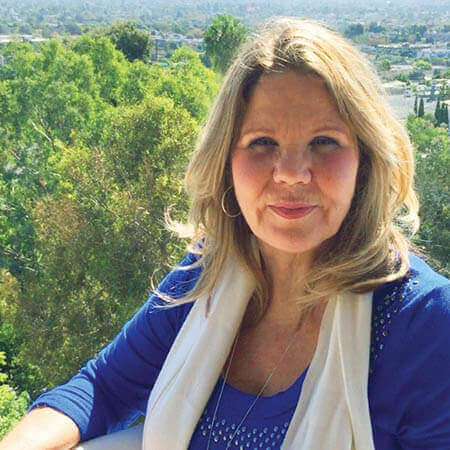 Kathleen Murphy, MA, LMFT, LPC
Kathleen Murphy, M.A., LMFT, LPC is the founding Executive Clinical Director at Breathe. Her career is built on more than 30 years of experience working with people suffering from substance use issues complicated by relational trauma. She has been a part of the team at Breathe since Day 1.
Kathleen has made use of Sensorimotor Psychotherapy, IFS, AEDP, Interpersonal Neurobiology, polemics, and didactics. Her focus on psycho-education, experiential group processes heavily influenced by attachment theory, as well as psychodrama techniques, assist clients in reframing and reclaiming the self as a being in relationship.
Prior to Breathe, Kathleen had the honor of deepening her experiential group therapy skills at Breakthrough at Caron Treatment Center in Wernersville, Pennsylvania.
Kathleen's passion for the practice and teaching of Kundalini Yoga, Sound Healing, Zen Buddhism, and all the wisdom traditions, flows seamlessly into her professional career. She also enjoys mental gymnastics, poetry and philosophical discourse as a way to help clients change their state of being.
Kathleen earned her BA in Sociology and Philosophy at the University of Texas, Austin and then her MA in Counseling at St Edward's University. She is also a Licensed Professional Counselor and a Nationally Credentialed Counselor. Kathleen is trained in Hakomi body-centered psychotherapy, Level 2 EMDR L and as a Sensorimotor Psychotherapist and is a member of the Sensorimotor Psychotherapy Institute and National Board of Credentialed Counselors. Additionally, Kathleen is a Certified Level 1 Kundalini Yoga Teacher and certified by Mehtab Benton in Gong Yoga therapy.
Steve Karp serves Breathe as Chief Medical Officer, treating clients who struggle with eating disorders, substance use, and mental health issues. Dr. Karp, a certified Addiction Psychiatrist since 1991, graduated Cum Laude from Delaware Valley College of Science and Agriculture, before going to medical school at the prestigious Philadelphia College of Osteopathic Medicine.
Dr. Karp completed his internship in Philadelphia then continued with residency in Psychiatry at Norristown State Hospital. Formerly Chief Medical Officer at Palm Beach Institute, Dr. Karp spent ten years directing psychiatry and medical care at Rosewood Centers for Eating Disorders in Wickenburg, Arizona, where he collaborated with CEO Deb Hughes.
Dr. Karp is a seasoned thought leader in the field of behavioral health, and holds a subspecialty in Addiction Psychiatry through the American Board of Psychiatry and Neurology. Dr. Karp is triple Board certified in addiction, adult and geriatric psychiatry and brings over thirty years of experience treating addiction and eating disorders. Dr Karp combines psychiatric training, empathic listening and motivational interviewing to support people towards lasting change.
Vice President of Referral Relations
Mackenzie Phillips is an accomplished and valued public advocate and educator for addiction recovery, healing the family system, and healing from trauma. Mack has taken her education at Sober College in CADAC Program for Addiction Studies and applied it to countless improvements in program enhancement, case management, and family/referent support during treatment.
Mackenzie has continued to stretch her role and knowledge to include clinical charting and utilization review improvements in order to ensure best practices for Breathe and optimize clients' ability to access care. Her diligence and understanding of what it takes to support the total client recovery experience is beyond reproach. She has been a part of the Breathe team for over 4 years.
Candace Bruce, BS, CADC II
Vice President of Strategic Initiatives
Candace Bruce has extensive C-level leadership experience in behavioral healthcare. With 30 years of treatment experience in addiction, eating disorder and other co-occurring disorders, she has held a range of positions in executive management and holds a bachelor's degree in Business Management with an emphasis in accounting and marketing.
Candace is also a counselor, interventionist, life coach and active member of the EMCC. She has worked with Dr. Deepak Chopra and Dr. David Simon in program and business development and has worked with world-renowned treatment programs with multi-levels of care within the treatment field.
In addition to her treatment experience, she also worked in the legal department at 20th Century Fox and project managed the development of their corporate and legal records management software. She also project managed accounting and payroll development of the Supercuts POS software currently installed worldwide. As an entrepreneur, Candace has owned several companies outside of the treatment field. Her vast understanding of web-based play with marketing, software, data accessibility, user needs and user connectivity helps her to reach and develop resources to build systems in marketing that increases reach to drive awareness and traffic. 
Candace's current focus is taking professional experience, wisdom, and lessons to employ strong inspirational leadership in small to large projects, and independent and interdependent relationships to improve experience and outcomes through Team Potentiality.
Christine Wolf, CADC II, ICADC
Christine Wolf is a Primary Counselor at Breathe Life Healing Centers. She holds a degree in drug and alcohol counseling and graduated at the top of her class. She is also certified by the California Consortium of Addiction Programs and Professionals. She has worked in, and managed, partial hospitalization programs, outpatient, and residential treatment centers.
Christine has worked at Kaiser Permanente as a Drug and Alcohol Counselor, The Discovery House as a Resident Advisor Assistant, and CareForward Health as a Program Manager. 
Christine is also in recovery from substance abuse and truly understands the path that each client must walk. She strongly believes that everyone has the power within themselves to recover. Treatment is about discovering the key that unlocks the path to freedom.
Robert has over 15 years experience working in drug and alcohol rehab centers. His continuing goal is to work in mental health to assist clients in the community. He has worked as a Residential Advisor, Program Aid, Counselor, Sober Companion and Program Manager, ensuring that he brings a wealth of knowledge and experience to Breathe.
He has gained considerable experience working in the field of mental health with moderate to severe clients with substance use and PTSD. His credentials include a Bachelor of Arts in Psychology and a Masters Degree in Psychology.
Sara Kurtz joins us with over 10 years in Counseling and Therapeutic experience delivered residential treatment services to individuals with co-occurring disorders. As a Licensed Marriage and Family Therapist, Sara has extensive experience in intake, assessment, treatment planning, individual, group and family counseling and is a strong addition to the Breathe Clinical team.
Bill is an addiction specialist with extensive experience bringing diversity in therapeutic counseling techniques for groups and individuals. Derivative expertise founded in over 30 years of personal experience working with addicted populations in a private setting. Innovative and analytical individual recognized for melding holistic and traditional therapeutic approaches to help the addicted population waken to what is possible in recovery.
Multi Family Group Facilitator
Charlie began her journey at Breathe in January of 2016 and quickly fell in love with the company's steadfast commitment to ethical, effective and integrated care. Charlie supports Breathe's Family Workshop process each month and is a counselor with our partial day treatment and intensive outpatient clients. 
Charlie teaches meditation and breathing techniques specifically catered to calming and restoring the autonomic nervous system. In addition to her work as a counselor and with families at Breathe, Charlie also works with firefighters, first responders, women in recovery and entertainment professionals in the greater Los Angeles area.
Charlie is active in her community, serving on the Safe West Hollywood Community Coalition and facilitating Narcan training to the public.
Mellissa McCracken CADC, CSAT-C
Mellissa is a trauma informed counselor working in an acute treatment setting. She is responsible for facilitating a treatment track specific to the needs of those in the LGBTQI community. She has been working primarily with gay men healing from substance use fused with sex, aka: ChemSex addiction.
Mellissa utilizes an experiential based, sex positive, gay affirmative approach to recovery from ChemSex. For over 5 years, Melissa has sought to bring experience, expertise, compassion, and clarity to the counseling process in order to maximize outcomes and provide genuine healing and wholeness to the individuals she counsels.   
Megan has over 15 years experience in treatment facilities across California. Her continuing goal is to work in mental health to assist a diverse population of clients in the community. She has worked as a Registered Behavior Therapist and as Associate Therapist. She has gained considerable experience working in the field of mental health with moderate to severe clients with substance use and dual diagnosis. Her credentials include Registered Behavior Therapist, Alcohol and Drug Counselor Certification & CRP Certification. Megan has worked for such institutions as the Hills Treatment Center, Maple Counseling Center and Abrite.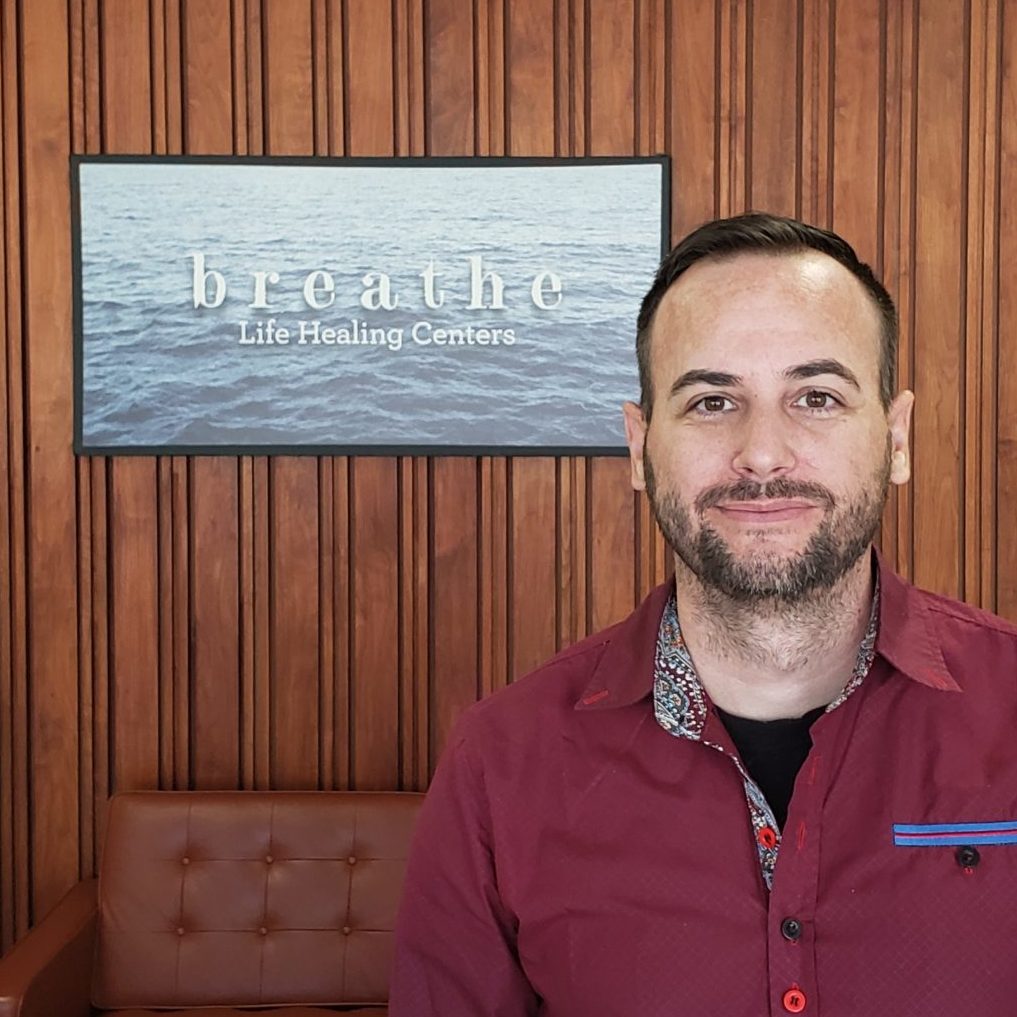 Community Life Activity Director
Scott brings his experience from work as a teacher, behavior intervention therapist and executive director. His background is as diverse as the skills he brings to Breathe. He is determined to provide the best care for the clients as he works at both our hillside campus and clinic spaces.
Roxana Preciado possesses a Master of Science in Counseling with a focus on Marriage and Family Therapy from California State University, Los Angeles. Alongside her academic achievements, Roxana's practical experience underscores her dedication to mental health support. She offers vital services to those on the path to recovery, collaborating with peers and healthcare experts to ensure holistic well-being. Her roles as a Lead Clinician at L.A. CADA and specialist at both the Los Angeles Outpatient Center and Shoreline Center for Eating Disorders highlight her commitment to aiding those overcoming substance use and eating disorders.
Beyond her professional endeavors, Roxana's influence extends to public engagement and creative expression. Fluent in Spanish and a published author and poet, she has delivered workshops and presentations on mental health, immigration, and related topics. Roxana's certifications in areas like Telehealth for Mental Health Professionals and Transforming Trauma in LGBTQ Youth further underline her continuous pursuit of knowledge and dedication to compassionate care. Her journey exemplifies the fusion of academic achievement, hands-on expertise, and a profound commitment to making a positive impact in the field of mental health and counseling.
Rebecca Yadegari, MS, RDN
Rebecca's comprehensive education included an intensive Dietetic Internship at California State Polytechnic University, Pomona, where she accumulated 1200 hours of supervised practice specializing in medical nutrition therapy. Her diverse rotations ranged from eating disorders to clinical management, pediatrics, public health, and more. Prior to this, she honed her nutrition expertise through internships, such as with UCSB Dining Services, where she ensured nutrition requirements were met and pioneered UCSB's Nutrition Week.
With a robust background spanning academia and hands-on practice, Rebecca's professional trajectory took her to Bamboo Nutrition Therapy, Inc., where she served as a Registered Dietitian Nutritionist, conducting individual and family counseling sessions with an emphasis on eating disorders and co-occurring conditions. Her approach aligns with a Health At Every Size (HAES), all-foods-fit, weight-neutral philosophy, while her work as an Intake Coordinator streamlined client referrals and provided vital support. Rebecca's earlier roles, including positions at La Ventana and Health & Wellness Department at UCSB, reveal her expertise in supporting individuals through crises, meal planning, and nutritional counseling.
Chef Claudia Valdez has spent the last 8 years perfecting her craft. A chef of extraordinary skill, she prides herself on making delicious dishes from scratch that are sure to amaze. From a highschool cafeteria cook, to head chef, Claudia has a wealth of experience in her field that is rivaled by few. She has cooked at several treatment centers across California. Breathe is lucky to have such a dedicated chef.
Rawland "Rawly" Glass, LCSW, MSW has been a clinician and social worker for the past 30 years, including 14 years in private practice and as a presenter of inner healing workshops.
He has a broad experience base including managing addiction treatment contracts for the state of Idaho; serving as executive director of a non-profit that provided transitional housing; working with various vulnerable populations in adult and child protection; managing group homes for at-risk children; and most recently Chief Clinical Officer of The Bridge To Recovery based in Bowling Green KY.
Being a workshop facilitator has been a constant in his career. Workshops for clients on the underlying dynamics of addiction, recovery, and healthy relationships has been a theme for many years. Rawly also focuses on addressing trauma using Brainspotting, a practice that identifies and processes neurophysiological sources of emotional pain, trauma, and dissociation.
In 2013 Rawly acknowledged his life work of encouraging and supporting people seeking healing and an authentic connection with themselves, their Higher Power, and others by launching his own business. Intra-Connected offers short, powerful workshops for individuals and families working through addiction and trauma by creating healthier relationships.
Rawly holds a Bachelor of Social Work degree from Pacific Union College and a Master of Social Work degree from Walla Walla University, with a dual emphasis in Clinical Work with Children & Families and Addiction Treatment. He is licensed in Oregon and California as a Licensed Clinical Social Worker (LCSW). He was the recipient of the Addiction Professional 2012 Outstanding Clinician Award.
Family Program Coordinator
Dujuana has been an Intake coordinator for dual diagnosis treatment programs in Arizona for the past several years; prior to that she was an educator and social services facilitator for over 20 years. A comprehensive practice in working with families in crisis, Dujuana takes special care to listen to the needs of family members to design support services that support their individual needs.
Dujuana began her family support work as a parent educator for the nationwide Parents as Teachers program. Responsible for the operation of the Parent Resource Center, she conducted family groups and home visits with parents and children ages 0-5 years.
Dujuana provided developmental information while promoting foundational literacy. In 2009 she entered the treatment and recovery arena joining Rosewood Ranch treatment center as an Alumni Coordinator. A few years later she transitioned to Intake Coordinator, providing direct support services to families in crisis. She now joins Breathe Life Healing Centers after being at Remuda Ranch as an intake coordinator. Dujuana began her career at the Trade Winds Rehabilitation Center (Gary, IN) where she was a childcare teacher. The special needs youth she worked with utilized the facility for specialized care.
This position allowed Dujuana to practice and expand her natural skills of empathy and patience. Soon after, she earned a bachelor's degree in general studies from Ball State University. Her course studies emphasized social work and education with a concentration in speech pathology. As a literacy trainer for the Reading Is Fundamental program, she was responsible for educating preschool teachers in effective reading methods for their preschool students.
Dujuana' s dedication, compassion, and relationship-building skills allow her to connect quickly, establishing a safety net around those with whom she works. Clients immediately connect and are able to trust, identify and collaborate with Dujuana. Leading by example, and working tirelessly to better the world, Dujuana achieve success in each position she holds; often receiving awards and recognition in honor of her efforts.
Director of Alumni Relations
Miguel Palacios is the Director of Alumni Relations for Breathe Life Healing Center Los Angeles. He brings more than 15 years of experience and expertise to his role.
Prior to Breathe Life Healing Centers, Miguel worked in management with experience in public relations, community relations, media relations and event planning.
Miguel believes that success is not in the results but in the effort. Being the best is not what really matters but doing the best is all that matters.
Juan is a motivated individual, who for the past 10 years, has enjoyed working with adults and families in various roles. For over five years at Breathe, he has provided case management and facilitated resources for those in need. He has participated in Motivational Interviewing trainings at AltaMed, and supported many people and family members with 12 step programs. He is a patient individual who enjoys making a difference in people's lives.
Eddie has nearly 40 years of experience working in the mental health and substance abuse industry. His work as a counselor, case manager and program director has allowed him to come to Breathe with a unique perspective on the entire counseling process. He has facilitated education groups, process groups, experiential groups and family groups over his career in the field.
Kayla is an amazing part of the Breathe community. Her experience in case management and client relations only serves to build upon the uplifting community that she is joining. As a program manager and client advocate, she gained valuable experience in assisting families and handling the high pressure situations of intake and discharge.
Xiomara has an extensive background in medical and educational fields. With over 15 years in the medical field under her belt, she came to Breathe over 5 years ago with a unique dedication to her career. She has assisted doctors and nurses at Stoehr Medical Management, Universal Psychiatric Medical Center, and Silverlake Medical Center. She always maintains her positive attitude and is exceptional with client relations.
Director of Intake/Admissions
Cristina Meadows has extensive experience in working in treatment, in addition, to pursuing a degree in Addiction Studies. Cristina has worked as a Treatment Intake & Admissions Call Center Manager with Clare Matrix, where she built and trained a team on the best practices regarding identifying client needs and client admissions.
During her employment at Breathe Life Healing Centers her team is a leader in building sustainable relationships with community partners, exemplary client focused care, family support, and a seamless admission process to optimum treatment. Cristina drives her department to overcome the barriers that can be presented to clients and their family's access to their journey of recovery.
Mark is an intake coordinator at Breathe and has a wide variety of experience that he brings with him. Mark has recently completed his CADC-1 certification to accompany his RADT certification. He was a part of the creation of 501c3 and the establishment of West Hollywood Recovery Center along with being a member of the C2C (Connection to Care) HIV-Aids Education and Benefits board. Mark is dedicated to providing support for others with drug, alcohol and disordered eating struggles.
Clinical Outreach Coordinator
Nicole has been working in behavioral health services for over twelve years and has a passionate dedication to this field. Her experience in admissions and marketing have made her a powerhouse in the world of treatment and recovery. She worked as an Admissions Manager and was able to coach the eight members of her admissions team on the in and outs of client calls, and assist in clinical interventions to support client care.
As an Admissions and Marketing Manager at True Recovery, she developed the admissions processes that were adopted company-wide. Nicole was also able to grow and develop the company's online presence and audience.
She has worked closely with their clinical department as well, dealing with client transfers and discharges. In 2019, she began work at Foundations Recovery Network as a Business Development Representative. This experience allows her to be an incredibly valuable member of the Breathe Team, a resource to the treatment field and to families and clients in need of treatment.
Clinical Outreach Coordinator
Brian Whisenant has over 18 years of experience working in marketing and outreach. His work across the country, from New York, to Mississippi and finally Los Angeles, have allowed him to come to Breathe with a unique perspective. Recently, he has worked at American Addiction Centers as an Outreach Coordinator and as Director of Community Relations at Oxford Treatment Center.
There he built and developed relationships with a number of referral partners that allowed him to help determine proper care for all who needed help. Brian has a degree in theatre performance from the University of Southern Mississippi and brings his incredible passion for helping people who suffer from addiction to the Breathe team.
Senior Outreach Eating Disorder Specialist
Diahann has considerable experience in building and operating behavioral healthcare companies. She has held various senior executive clinical, administrative and marketing positions and previously served as COO of La Ventana Treatment Programs in Southern California specializing in the full continuum of care for both Mental Health & Substance Use Disorders, and previously eating disorders. 
Diahann has sat on both non-profit and for profit Boards serving the mental health, substance use, and eating disorder populations since 2008. She is a past two-term Board President of the International Association of Eating Disorder Professionals (IAEDP, LA) and Education Board Chair of the Women's Association of Addiction Treatment (WAAT, SFV). She is a Licensed Marriage & Family Therapist and Dept of Social Services Adult Residential Facility Administrator.
Diahann is passionate about providing the highest quality of clinical treatment, creating programs of excellence, and maintaining ethics in the healthcare industry. With a personal story of recovery and healing she strongly believes in client-centered care and the transformational power of holistic, individualized and evidenced-based treatment.

Previously Diahann had careers in commercial and residential real estate development. And, as a member of SAG-AFTRA and Equity has performed in over a dozen plays in NYC's theatre district and several TV/film productions. She was raised in New York and currently resides in Southern California. She graduated Cum Laude with a Bachelors degree in Political Science from Middlebury College, a Masters degree in Psychology from Antioch University, and a Certificate from the London School of Economics & Political Science.
Marketing Coordinator, BA
Ethan has worked with a multitude of clients and companies over the years to create innovative and show-stopping advertising campaigns. From boutique gyms to multinational corporations, he has a wealth of experience in creating marketing strategies that are engaging and proven to increase sales. 
He graduated from the Art Center College of Design in Pasadena California, one of the top ranked design schools in the world, with a Bachelor of Fine Art's degree in advertising. As one of only six advertising students in his term to graduate from the exceedingly demanding curriculum, he was able to hone his craft and discover a passion for affecting real change in people's lives. During his time at Art Center, he worked for a number of local companies, including several gyms, to market services to their target audience and ultimately boost sales both in person and online. 
Upon graduation, he began working as head advertising coordinator at Dom Vetro, a luxury eyewear designer/manufacturer. There he managed a team of expert photographers, videographers, designers and editors. Him and his team coordinated multi-level advertising campaigns that featured the likes of Alec Baldwin, Jon Hamm and Terrell Owens.
Ethan prides himself on being able to push creative boundaries and jump onto the latest trends. This allows him to help modernize the public perception of businesses and bring an organic element that keeps them from feeling too "corporate" to their customers.
At Breathe, he is excited to be a part of a team that inspires positive change in people's lives.
Pablo joins the team with extensive experience in Business Operations and Human Resource job & law compliance. After completing his Bachelor of Science in Business Management from the Fashion Institute of Design & Merchandising he branched out from his retail background into rehabilitation in order to ensure each client is treated with the respect that they deserve.
As the Human Resources Coordinator, he ensures that everyone that is brought on to the team is deeply passionate and committed in providing our clients with exceptional care. He looks forward to completing his Masters of Jurisprudence in order to further strengthen his knowledge in law and compliance.
Jean brings a wide skill set to Breathe. With a career in the health field that spans almost 3 decades, she comes to breathe with a level of expertise that is tough to match. She has worked as an admissions coordinator, intake specialist, and most recently, as Director of Revenue Cycle management in Atlanta Georgia
She has worked in accredited recovery centers such as Rosewood Centers for Eating Disorders, A New Journey Eating Disorder Center, The Bluff Plantation, The Palm Beach institute and many more. 
Dr. Judy Ho, Ph. D., ABPP, ABPdN is a triple board certified and licensed Clinical and Forensic Neuropsychologist, a tenured Associate Professor at Pepperdine University, and published author. Her most recent, Stop Self-Sabotage, was published by HarperCollins in August 2019. Dr. Judy's work with CARE Unit clients is extraordinarily in-depth & revealing from testing and talent.
An avid researcher and is a two-time recipient of the National Institute of Mental Health Services Research Award, Dr. Judy received her bachelor's degrees in Psychology and Business Administration from UC Berkeley, and her masters and doctorate from SDSU/UCSD Joint Doctoral Program in Clinical Psychology.
She completed a National Institute of Mental Health sponsored fellowship at UCLA's Semel Institute. She maintains a private practice in Manhattan Beach, CA where she specializes in comprehensive neuropsychological assessments & expert witness work. 
Judy Ho Gavazza, Ph. D., ABPP, ABPdN, CFMHE
Clinical and Forensic Neuropsychologist
Diplomate, American Board of Professional Psychology
Diplomate, American Academy of Pediatric Neuropsychology
Diplomate, National Board of Forensic Evaluators
Associate Professor, Pepperdine University
Eating Disorder Therapist
Alison Shlomi, LCSW, transitioned from a successful corporate fundraising career to pursue her passion for helping others. She earned a Master of Social Work degree from the University of Southern California and attained the coveted LCSW designation through dedicated training. She specializes in eating disorders, depression and anxiety.
Alison's therapeutic philosophy emphasizes compassion, exploration, and insight. She firmly believes in the potential for growth and self-awareness within a strong client-therapist relationship. Alison's goal is to guide clients through managing emotions, transforming harmful behaviors, and fostering meaningful connections. Adapting various modalities to suit individual needs, she collaborates with clients to alleviate symptoms and promote personal empowerment.
Alison adeptly addresses a wide array of challenges including anxiety, depression, eating disorders, trauma, addiction, grief, identity development, relationship dynamics, and more. Her guidance equips individuals with resilience, purpose, and tools for lasting change.
Adrienne is an experiential psychotherapist, movement specialist, therapist, meditation teacher & energetic shamanic healer. Adrienne is certified in IFS (Internal Family Systems — the evidence-based method to trauma healing) and graduated from both the Interdependence Project's Meditation Teacher Program and Nalanda Institute's Compassion Program.
Adrienne has enjoyed intuitively helping others find their creative path towards healing for 20 years. In her free time she enjoys playing with her family & daughter, dancing, hiking and geeking out with friends on Tibetan shamanic studies, yoga, meditation, IFS, movement, arts, comedy, music and regularly having dance parties in her room while folding laundry.
A powerful healer who excels in group work, clinical team supervision and leading training immersive experiences, Breathe Life is a welcome spot for Adrienne to link her history and work with the clinical methods utilized in Breathe's clinical legend.
Tommy is the Head of Canine Relations at Breathe and has a distinguished career in the field of Pup-ology. Tommy has recently completed her DOG-y certification to accompany her dual degrees in Tail Wagging and Ear Scratching.
For the last 2 years, Tommy has worked tirelessly at Breathe to not only liven spirits, but put her nose to the grindstone when it comes to essential daily tasks like sniffing the carpet and taking a nap under a desk. Her extensive credentials don't get in the way of her sunny demeanor, however. She remains ever approachable and down-to-earth, despite her clear overqualification. Tommy is an essential part of the team at Breathe and we don't know what we'd do without her.